Zoltán Tóth, a moving expert, is the visionary and leader of our company, MoveArtis. He has been working in international removals for over three decades.
Throughout his 35 year career, he has established numerous international partnerships, which is why we offer services of exceptional quality. We can move your guitar collection or your art collection overseas, while handling customs clearance and other administrative tasks.
How did Zoltán Tóth become a moving expert? How can his expertise help? Read our article!
Career from a suitcase – How does one become a relocation expert?
If you ask Zoltán Tóth, moving expert, if it is possible to start a new life with two suitcases, he smiles and says: "If we take my life as an example, then even with just one." The concept of MoveArtis and its development were inspired by Zoltán's personal story. When he was young, he truly set off with just one suitcase, leaving Transylvania for Hungary.
Thanks to his 35 years of professional experience, he now moves entire households to any corner of the world. Since the emergence of international moving in Hungary, Zoltán has been building his business since the 1990s. Today, with an excellent team and partnerships behind him, he assists those who decide to settle in another country.
International moving in the past and today
The professional credibility of Zoltán Tóth is not only proven by his decades-long career. He has been present at the birth of the international removals market in Hungary, and is therefore constantly involved in the development of international trends.
He still remembers the story of his first removal. While arranging the client's documents, he visited the customs office, where the employees were surprised and they asked him: who came to Hungary? Between 1993 and 1995 just foreign investors, CEOs, and engineers arrived in the country. But it was an equally exceptional remarkable moment when a Hungarian citizen set off to settle in a country beyond the border.
Now this trend has changed radically. Over the past 15 years, Hungarians and foreigners have been swapping and switching proportionally, so there is a natural balance in international migration trends.
What can a moving expert help you with?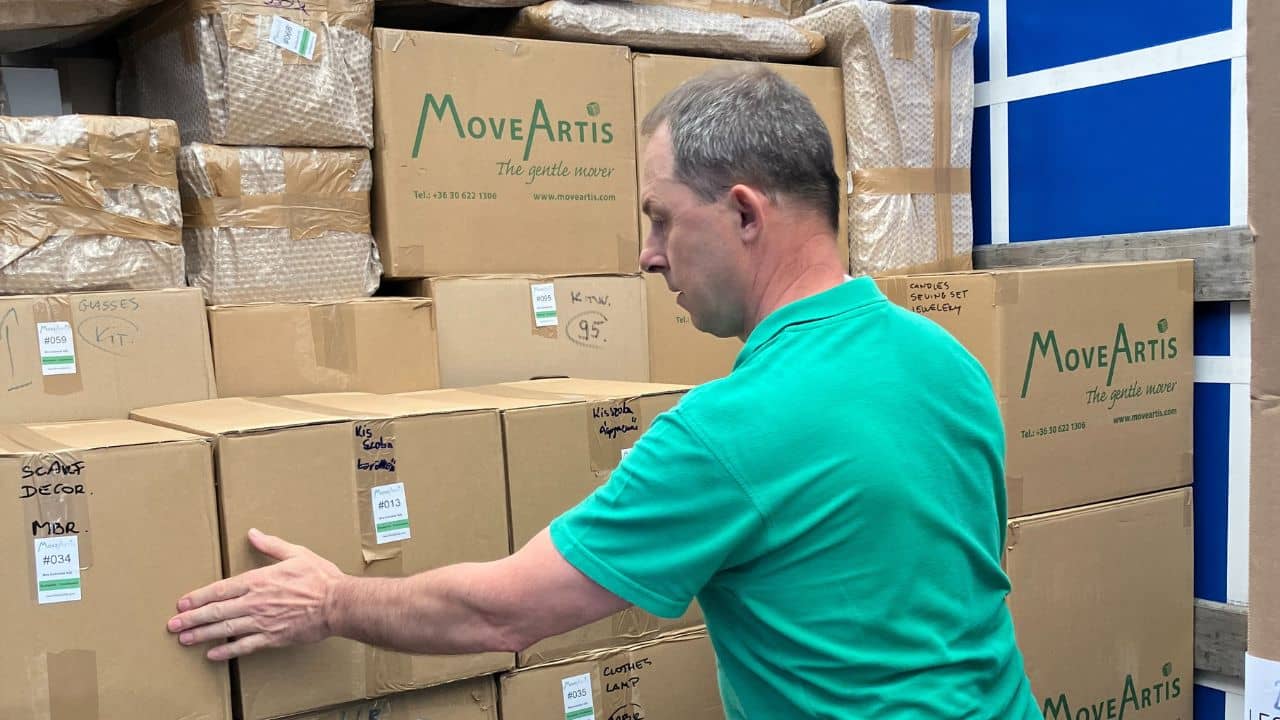 With a professional moving team and the help of a moving expert, the moving process becomes much easier:
Thanks to professional assessment and moving expert's advice, there's no need to individually research every detail.
With an extensive international partner network, cross-border processes can be managed seamlessly: from administrative tasks to customs clearance.
If needed the entire household, including large or valuable items, can be moved safely.
A moving expert also provides emotional support to clients. He proactively points out potential pitfalls that could lead to stress during the moving process. Conversations with an expert help navigate logistical challenges as he addresses concerns right from the outset – from where a child's medication and favorite toy should be placed, to what items go into the shipping container and what should be packed in the carry-on backpack.
And what happens when we get stuck with the packing? A professional moving expert will still hold our hand and guide us in the right direction. In moments of uncertainty, Tóth Zoltán always poses the same question to his clients: "Are you emotionally attached to the things you want to take with you?" Sometimes that's all we need: someone to answer our question with the right question, at the right time, in the right place 🙂
Are you interested in our services? Contact us!
From consultation to unpacking – premium services for individuals and businesses
At MoveArtis, we transport our clients' belongings from any point on Earth to their designated destination with a language-proficient and reliable team. If someone also uses our handyman service, our colleagues will also assist with unpacking and turning the new house or apartment into a home.
Our premium services are available to individuals and companies, too. The first personal assessment and offer is free of charge. Move consultation comes with a fee, but it facilitates obtaining multiple quotes. However, the fee for this service can be included in the cost of the later ordered moving service.
We also have our own box and packaging online webshop. The products are designed with materials and configurations specifically tailored for professional movings.
35 years of international experience for smooth movings
Someone who has been dedicatedly working for 35 years has practically seen it all in their field. Many years are a testament to a level of humility, authenticity and knowledge that is not an everyday occurrence. MoveArtis's wide range of services has become unique thanks to the dedicated work of moving expert, Zoltán Tóth.
Moving can bring renewal and refreshment into our lives, but it can also come with physical and emotional challenges. Therefore, it's highly important that each of us receives a service that fully supports us in taking even the smallest and the largest steps.
At MoveArtis, our shared goal is to ensure that despite all obstacles, the moving remains a positive experience. We want our clients to fully embrace the beauty of change, the wonder of a new environment, and to be able to recognize the countless opportunities that await them.
The 35 years of experience of our moving expert, Zoltán Tóth, and MoveArtis membership in international associations guarantee the quality of our service. If you're interested in our services, you can even sign up for our free consultation right now!